John McCain Cindy McCain Photo (embedded from Photobucket.com)
Republican presidential candidate John McCain and wife Cindy McCain appeared on September 12's The View on ABC. The McCains faced some touch questions from the co-hosts Joy Behar, Barbara Walters and Whoopi Goldberg, watch the 3 videos after jump.
Cindy McCain did not confront with the two hosts on the show that day, but apparently, she did splash fierce disagreements against them one day after her appearance on The View, ABC's senior national correspondent Jake Tapper reported:
In a video recording of Cindy McCain at a Michigan fundraiser obtained by ABC News' deputy political director Karen Travers, the aspiring first lady says the American people's views and beliefs are not represented in newspapers and on TV shows such as "The View."

Mrs. McCain was speaking at the 119th annual Oakland County Republican Party's Lincoln Day Dinner, Saturday night, one day after she and her husband, Sen. John McCain, R-Ariz., had a confrontation-filled visit to "The View," where co-host Joy Behar told McCain that two of his TV ads "are untrue, they're lies," and "View" founder and ABC News superstar Barbara Walters asked Cindy how many houses she and her husband own.

"In spite of what you see ... in the newspapers, and on shows like 'The View' -- I don't know if any of you saw 'The View' yesterday, they picked our bones clean -- in spite of what you see, that's not what the American people are saying and what they are believing," says Mrs. McCain, per ABC News' Arnab Datta. "They are now seeing a clear difference with these candidates, and they are seeing who is going to make the best president, and that's why we're pulling ahead."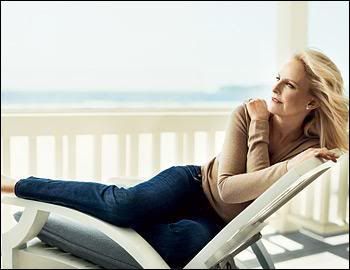 Cindy McCain Vanity Fair photo (embedded from Photobucket.com)
Interested Cindy McCain's The View after-show remarks? Click here to listen to the potential first lady's audio.